Winter in Australia can be a glorious opportunity for campers. In many parts of the country, winter remains as hospitable as spring or summer, and can even be more enjoyable thanks to lowered humidity and bright, sunshiny days.
In parts of Queensland and New South Wales, the winter season is renowned for offering mild, dry conditions that are irresistible to locals and tourists alike. To help you and your family make the most of the cooler weather, we've put together the ultimate winter camping checklist!
Check out our suggestions below, where we answer common questions such as 'what to wear camping in winter' and 'how to keep warm while camping'.
Shelter and sleeping equipment
Although Australian winters are relatively moderate, every camper knows it pays to be prepared! After all, the most fundamental need of any outdoor adventurer is adequate shelter and comfortable sleeping equipment. If you're wondering how to keep warm while camping, we recommend paying extra attention to ensure your sleeping arrangements are sufficiently snug.
Set Up Camp is the exclusive dealer of OPUS camper trailers and accessories in Queensland and New South Wales. Our campers are durable and made to withstand Australia's changing weather conditions, but comfortable enough to keep you sheltered from the four seasons, thanks to some luxe interior inclusions.
In addition to your preferred camper trailer, it's worthwhile considering other shelter and sleeping gear that will help make your outdoor expeditions more comfortable during wintertime.
We suggest your choice of the following:
Camping pillows
4-season sleeping bags
4-season swag
Camping stretchers
Foam camping mattresses for added plushness
Thermal reflective blanket
Depending on how off-grid you camp and your choice of camper trailer or shelter, you may also need some bathroom essentials, such as a portable toilet, toilet tent, shovel, toilet paper and hand sanitiser. However, most camping facilities in Australia will provide you with toilets and showers.
Clothing and accessories
We're often asked what to wear camping in winter within Australia. The answer is that packing fit-for-purpose apparel enables you to add or remove layers of clothing in-line with temperature conditions, ensuring you're prepared for anything.
Wintery weather can involve cooler temperatures, higher wind speeds, increased levels of fog, rain, frost, or even snow. We recommend ensuring that you have the following clothing options readily available:
Waterproof jacket (outer layer)
Waterproof pants (outer layer)
Warm jumpers (mid layers)
Insulated vest (mid layers)
Thermal underwear (base layer)
Waterproof gloves
Thick, warm socks
Sturdy shoes and/ or boots
Beanie and/ or hat
Scarf and/ or gaiter
Sunnies
Lip Balm
Toiletries + Shower Accessories
Feminine products
You may also wish to pack other accessories that are specific to your chosen destination. For example, you may need sunglasses, snow goggles, binoculars, lip balm, a headlamp and other items that ensure you stay safe when venturing into the elements.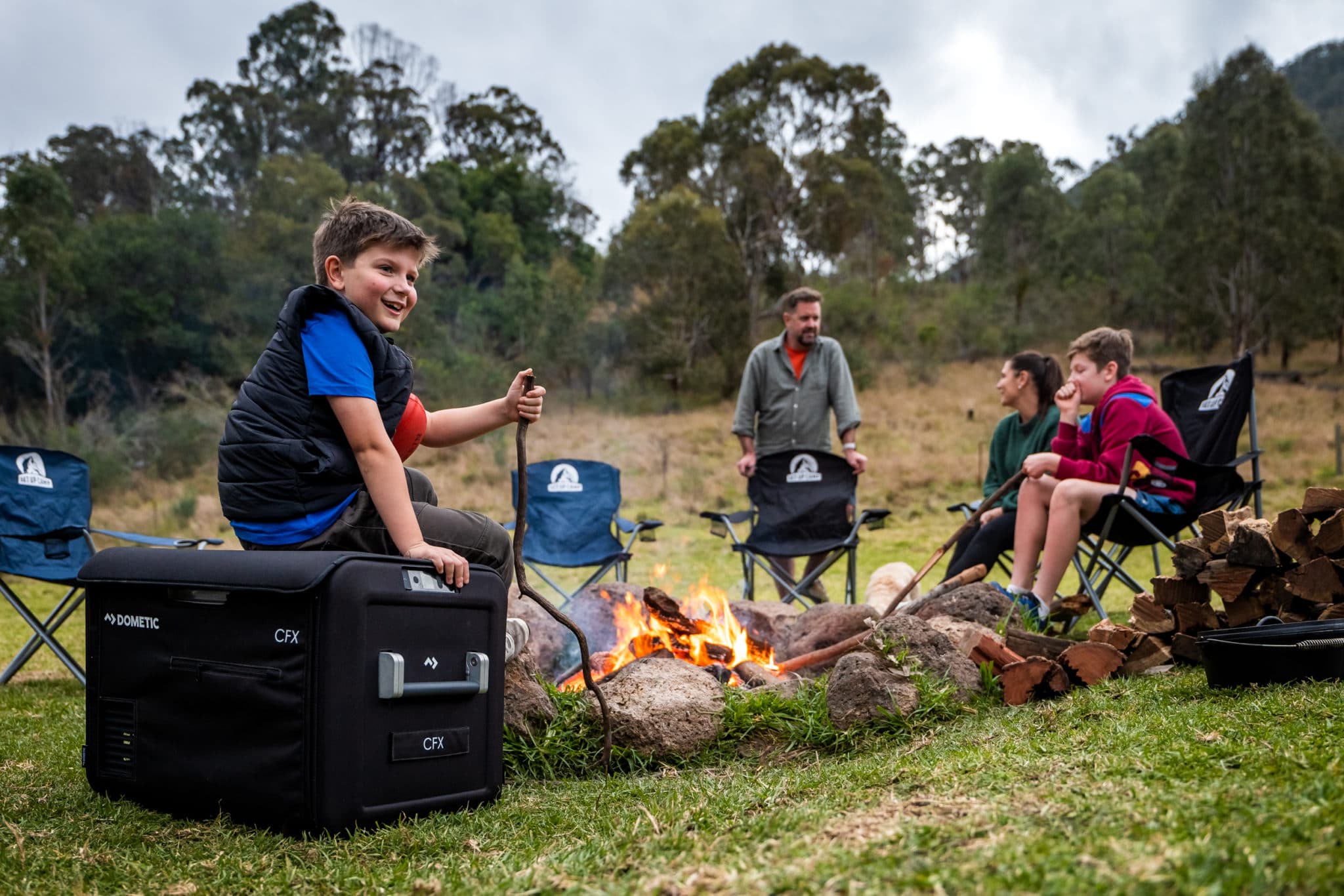 Cooking and fire-starting
OPUS campers are fitted with some pretty impressive cooking equipment as standard. That said, it's always worthwhile being prepared and ensuring that you have everything on hand to cook a hot, nourishing meal. Depending on your individual circumstances, the following cooking and fire-starting items could come in handy:
Camping stove
Pots and pans
Cutlery and carving knives
Plates and bowls
Mugs and/ or Thermos
Barbeque utensils
Campfire cast iron jaffle press
Fridge and/ or esky
Fresh groceries for meal preparation
Packaged foods for easy snacks
An extra day's ration of food
Water bottles
Water purification tablets and/ or device
Firelighters
Kindling
Firewood (locally sourced)
Matches (in a waterproof, sealed container)
Navigation and recovery
As a camper, it's important to maintain an awareness of your surroundings in case of emergency. Having sufficient resources for navigation and recovery can also be critical in unexpected situations, particularly if you're exposed to the cold winter elements and need to return to shelter quickly. We recommend having the following at hand:
GPS
Compass
Map
Vehicle repair gear
Radio and/ or satellite
Lantern and/ or torch
Knife and/ or multi-tool
First aid kit (and basic first aid training)
Whistle
Duct tape
Charged power banks & phone cord
Battery charger/s (be mindful that solar powered batteries may not always work in overcast weather conditions)
---
What's on your list of must-have winter camping gear?
Tell us your thoughts by tagging Set Up Camp on social media!